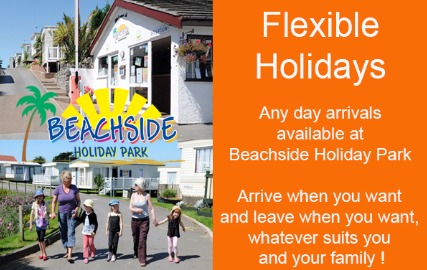 Any day arrivals available ALL SEASON at Beachside Holiday Park,
Yes that includes high season too!!!!
Here at Beachside Holiday Park, we like to offer the flexibility of booking any day arrivals, giving you the opportunity to plan a break around the dates that suit you and your family.
This is perfect for working families, shift working or if you have younger children and you can slip away for a few days without worrying about school holidays.
Offering from 1 night upwards..............
How do I book?
If you wish to stay less than 3 nights please contact our Reception team who will be only too happy to help or answer any questions for you.
Alternatively our online booking system has been designed so you can choose the day you arrive and the day you leave without any fixed duration.
There is a minimum stay of 3 nights (when booking online), but apart from that, you can stay as long or as short as you like. You could come away for 3, 5, 6 or even 14 nights! However book online with us for 3 or more nights and receive 5% discount.
A warm welcome awaits you...............
Released On 29th Jan 2019