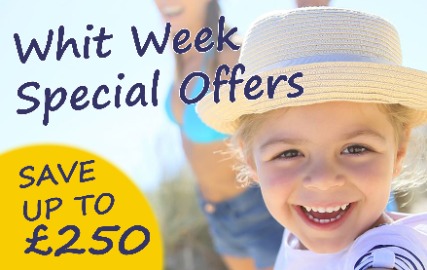 Save up to £250 on your caravan and lodge holidays this May Half Term with one of our special Whit Week breaks.
10% off mid-week
We are offering a 10% discount on all new Monday to Friday breaks arriving on the 22nd May. Offer is available online and over the phone, discount will automatically be applied at check out.
Lodge Breaks
Book 3 or 4 nights in one of our luxury lodges from just £27 per person per night, see available dates and prices below. To book please call 01278 751346
Mendip View (sleeps 6 people)
19th - 22nd May (3 nights) £500 - SOLD
22nd - 26th May (4 nights) £700
26th - 29th May (3 nights) £500 - BANK HOLIDAY WEEKEND
29th May - 2nd June (4 nights) £700
2nd - 5th June (3 nights) £500 - SOLD
Beach Bungalow (sleeps 8 people)
20th - 24th May (4 nights) £850 - SOLD
24th - 27th May (3 nights) £650
Limited 2 night breaks
We are offering limited 2 night breaks in our caravans throughout the half term. This list will be regularly updated, if you don't see what you are looking for please check back later or call us on 01278 751346.
Platinum Sea-view 26th - 28th May WAS £366 Now £310 SOLD
Bronze 2 Bedroom 27th - 29th May WAS £256 Now £200
Released On 3rd May 2023